With the experiences of Falcó de la Reina, you will get into the deepest of Mallorcan nature, so you will be able to enjoy all that the Island, and specially the Serra de Tramuntana, can offer you.

Our experiences are 100% customizable, so, they can be adapted to any age and/or any level of difficulty.

Let yourself be carried away by our experienced guides, in order to live the adventure with total confidence and security.

The portfolio of Falcó de la Reina is constantly evolving its activities, so you will always find new experiences, you will discover innovative and authentic experiences that encompass outdoor physical exercise, together with different genuine proposals, creating in some of them, unique combinations in Spain. With which you will not only enjoy the sport, but also, you will learn first-hand about nature, landscapes, gastronomy, culture, traditions, history, curiosities … of all the enclaves you will visit.

The Serra de Tramuntana, located on the island of Mallorca, and declared a World Heritage Site by UNESCO in the category of Cultural Landscape, is our base of operations. It is, without a doubt, an incomparable setting, unique in the world in which to immerse yourself and lose yourself in order to enjoy unique and unrepeatable experiences.

Walk along its paths surrounded by its terraces of Pedra en Sec, enjoy its animals and plants, combine sea and mountain landscapes in a single setting, delve into the customs, festivals and traditions of its towns and its people and live unforgettable days, that will make Mallorca always accompany you in your heart.

The experiences of Falcó de la Reina adapt to any type of group, from a single person, lover of botany, hiking, naturalists … to couples, families, groups of friends … but always working from the premise of exclusivity, to That the tour you hire is unique, unrepeatable and tailor-made for you.

Choose the days you prefer, the duration, the difficulty, as well as many other options and we will prepare our activities, perfectly adapted to your requirements.

In all our tours, we offer courtesy transportation to and from any establishment located in Sóller, Fornalutx or Deià. In case you are staying in other parts of the island, consult with us about the different possibilities to set up a collection or meeting point.

The Viatges Falcó de la Reina experiences are developed by official mountain, nature and tourism guides, natives of the island, with many years of experience working in the luxury sector, accompanying visitors and nature lovers from all 5 continents.

In all the activities we include seasonal fresh local fruit and / or energy bars for each person and day.

Relax and feel safe, you are in the best hands.

All our excursions are available on request.

Now… choose your adventure!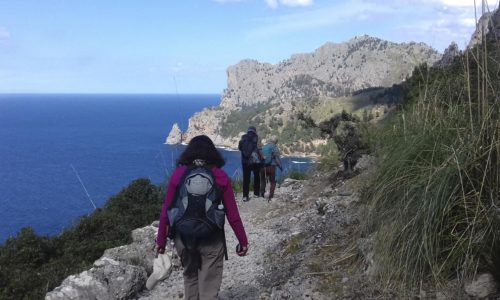 Discover the best routes in the island Walk with an expert local guide along one of the best trekking routes available at the Serra de Tramuntana, a unique and natural…